Stage set for top entertainment
Culture
Bahnstadt also does justice to Heidelberg's reputation as a city of culture. Its numerous meeting points and venues, many of them known well beyond the region's borders, create the perfect settings for cultural exchange.

Once lost in an overgrown and derelict tract of railway sidings, the now almost legendary culture and event house halle02 has once again become a focal point for the new city district thanks to development of the Bahnstadt area. More than 300 events each year bring in over 150,000 visitors to the former freight depot at Zollhofgarten. The events program is as diverse as the public, ranging from exhibitions and markets to parties and concerts of all kinds.
Former workshops transformed into cultural showcases
TANKTURM is another example of the transformation from industrial building to cultural venue. This former water tower of the rail maintenance depot has been extensively renovated and converted into a venue for events and conferences. The concept is to combine culture and business within the listed historic building – a place for readings and concerts, workshops and seminars. KlangForum Heidelberg, an association to promote contemporary music, has now taken up residence in the building's west wing. TANKTURM was awarded the 2017 Baden-Württemberg prize for the protection of historic monuments.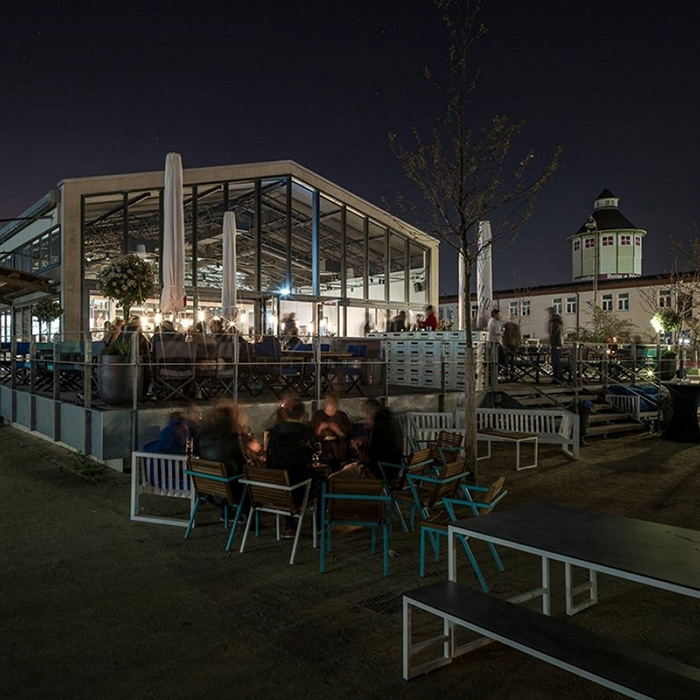 Blockbuster movies in a passive house environment
Bahnstadt is also the address of choice for cinemagoers from Heidelberg and the surrounding area. Luxor Filmpalast in Eppelheimer Straße is one of the biggest and most modern cinemas in the region. With bonus features that include a glass skywalk and free-hanging gondolas and a seawater aquarium in the foyer, Luxor Filmpalast turns a cinema visit into a recreational experience. Filmpalast in Bahnstadt is also the world's first passive house cinema.

The mission of the Heidelberg Confucius Institute is to foster cultural dialogue between Germany and China, dismantle stereotypes, and promote better mutual understanding through joint projects. As well as offering courses in Chinese language, the institute at Speyerer Straße 6 organizes events on Chinese culture, business and society.
Promoting community spirit
LA 33 is Bahnstadt's meeting point, events venue and neighborhood café in one. For many years located at Langer Anger 33, it moved to the B³ community center at Gadamerplatz in early 2018. Regular activities organized by LA33 include a gaming group, baby group, the Bahnstadt choir and a boules group. In addition, there is a range of temporary one-off events, from improvisation shows to neighborhood breakfasts.

The ecumenical church hall HALT is also a venue that promotes community spirit, organizing a wide-ranging and lively program for all-comers – not only Bahnstadt residents.